1. Sailor Beware
Sailor Beware is one-of-a-kind when it comes to tattoo fonts, a hand-drawn oblique (angled) font with a center-line serif on the left side only. Sailor Beware gives any traditional flash piece a more modern flair. Little known fact: this font was inspired by a Title Fight tour poster.
2. Sailor's Fat Tattoo Script
 There are many Sailor Jerry tattoo fonts available, but the vast majority are stiff and computerized. They just don't evoke the feeling of anything classic tattoo art. That's where the Sailor's Fat Tattoo Script comes in.
Sailor's Fat Tattoo Script is a hand-drawn half-filled Romanesque nautical tattoo font with decorative center-line serifs, wavy arms and foot serifs, and flow-through cross-bars on the A and H. Features some unusual non-English characters and ligatures. Finally a way to capture that nautical tattoo vibe without stiff and mechanical computerized letters.
Download Sailor's Fat Tattoo Script
3. Sailor Scrawl
Sailor Scrawl is actually a family of fonts, which is why it's on this list. Sailor Scrawl is a hand-drawn Romanesque tattoo font that comes in three different versions. Each version has a different infill pattern.
The standard Sailor Scrawl version has an open diamond in the center of the thick stem. Sailor Scrawl Black has no open diamond in the thick stem. Sailor Scrawl Fancy has an open infill on the thick stem with a diamond pattern.
Sailor Scrawl fonts are free for personal use only.
4. AZ Vintage Tattoo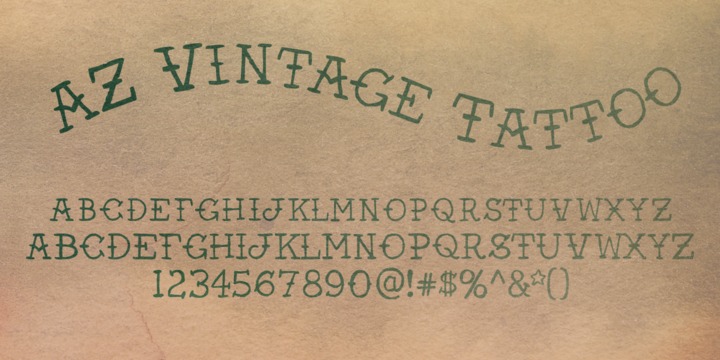 AZ Vintage Tattoo is a rough-hand old school tattoo font. The font features a number set, a useful selection of common punctuation, and a small caps set in the upper case. Be careful - the small caps set features thinner lineweights than the full height letter set.
5. Hello Sailor

Hello Sailor is one of the most commonly-used old school tattoo fonts in merch design today. Hello Sailor is an all-uppercase font with small caps in the lower case. It presents a very hand-drawn feel, and is indistinguishable from hand-lettering in traditional old school tattoo flash pieces.
6. Shipmates
Shipmates is an interesting entry into the list of best tattoo fonts. No decorative serifs or spurs, no decorative inline pattern, and yet found time and time again on many an Etsy store flash sheet. Clean, reliable, that hand-drawn authentic feeling, and a huge selection of stars and dots for filling open areas.
7. VTC FreeHand Tattoo One
VTC Freehand is an amazing hand-drawn old school tattoo by the prolific Larry E Yerkes of the Vigilante Typeface Corporation. Freehand Tattoo One was originally created as a freehand paint tool test with a tablet. It features thick stem weights on the uppercase letter set, and open stem bodies on the number set.
 VTC Freehand Tattoo One is free for personal use only.
Download VTC Freehand Tattoo One
8. AZ Sailor Tattoo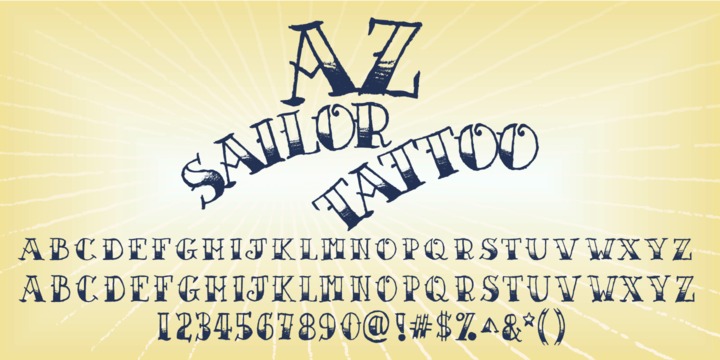 AZ Sailor Tattoo does not mess around. A gritty, hand-lettered half-filled nautical font, AZ Sailor Tattoo truly captures the look and feel of pencil lettering. The rough edges and gradient fill combine to perfectly emulate pencilwork.
AZ Sailor Tattoo provides a small-caps version in the lower case, a full number set, and a partial punctuation set.
9. Old School Tattoo Font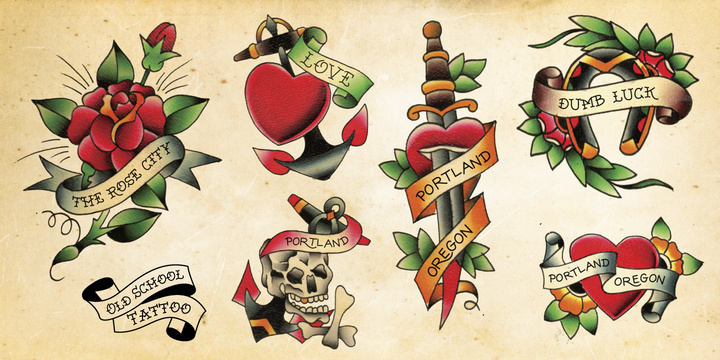 Richard Moore's Old School Tattoo Font is by far the best of the best when it comes to old school tattoo fonts. The monoline font features a hand-drawn feel, consistent line weighting and letter sizing, flourishes, decorative serifs, alternate uppercase size in the lower case, a full number set, and a good selection of punctuation.
Now if only we could figure out how to get the sans-serif font from his demo graphic...
Download Old School Tattoo Font
10. Rats Get Fat
Rats Get Fat is another stalwart of the band merch and Etsy flash painting scene. The hand-drawn font could never be mistaken for a computer-design typeface, blending seamlessly into any design.
11. Bellfield
Bellfield is a hand-drawn old school tattoo typeface inspired by traditional American tattoo designs. The typeface includes an uppercase alphabet with a few heavily-flourished alternate capitals. Bellfield features a much thicker lineweight than most hand-drawn old school tattoo fonts, which means it will show up better on large projects like apparel. Overall, it's a welcome addition to our list!
12. Dead Hardy
Dead Hardy is a natural feel hand-drawn thinline old school tattoo font with some special extras. The font features an uppercase letter set filled with embellished letters, numbers, and a good selection of punctuation. Dead Hardy is a great font for your production merch designs and flash pages.
 Dead Hardy is free for personal use only.
13. I Refuse To Sink
 I Refuse To Sink is a tall hand-drawn thinline tattoo font. The font features fewer serifs and flourishes, but still retains that old school tattoo feel. Letters are clean and evenly weighted.
I Refuse To Sink is free for personal use only.
14. Tattoo Thinline
Tattoo Thinline is a hand-drawn old school tattoo font, with a modern slab serif flair. The font strips away many of the features of old school tattoo fonts, but adds a number of new termination serifs, including vertical termination serifs on the E, F, L, T, and Z.
Tattoo Thinline blends seamless into any merch design or flash project you're working on.
Tattoo Thinline is free for personal use only.
15. Captain Cook Tattoo
Captain Cook Tattoo is a fully featured old school tattoo font featuring both half-filled and outline letters. The font is named after Captain James Cook. Lots of style and class, a great additional to any old school tattoo project. At only $9, this one's a steal.
16. True Mama
True Mama is a pair of exquisitely-made old school tattoo fonts. The typeface features the consistency of a font that's been constructed digitally, but adds the flourishes, serifs, and style of a hand-drawn font.
17. Classic Tattoo
Classic Tattoo Regular is a new entry into the diaspora of hand-drawn old school tattoo fonts. Classic Tattoo Regular is a single-case hand-drawn letter set with flow-through cross ties on the A, H, K, and N. termination serifs and a center-line spur on the left side only.
18. Old School Tattoo
Old School Tattoo is a computerized geometric old school tattoo font. The font features center-line serifs on both sides of each letter, with a v cross-bar on the A and H.
This font was designed by Supasonic Sage, a New Orleans tattoo artist who lost his shop in Hurricane Katrina. According to Sage, this font would be good for laying out tattoos with text without having to draw out the print every time, and includes letters and numbers (no symbols).
Being built out of geometric shapes and monolines, Old School Tattoo presents a very consistent overall look on any piece you use it on. The font has been used on an impressive range of band merch designs, and tends to be better suited to projects where it's okay to use a computerized font.
Old School Tattoo is free for personal and commercial use.
19. Sailors Tattoo Pro
Sailors Tattoo Pro skirts the line between computerized and hand-drawn fonts, in what is most likely the most flexible set of fonts. The Sailors Tattoo Pro set features open, filled, and half-filled letters (top or bottom), as well as two light versions and a set of gradients that can be applied as fills. The only drawback? Price: each font must be purchased separately, and prices start at $29...
20. Tattoo Ink
Tattoo Ink was originally created in 2003, and by now it's just about as cookie-cutter as you can possibly get on your old school tattoo projects. With incredibly consistent lettering sizes, and two types of terminations on the half-fill, it's not wonder Tattoo Ink has become the go-to font for everything from tote bags to cell phones to t-shirts and more. Tattoo Ink makes a great starting point for your first foray into old school tattoo fonts.
Tattoo Ink font is free for personal and commercial use.
21. Tattoo Sailor

Tattoo Sailor font is a scratchy hand-drawn old school tattoo font. Perfect for flash designs with a rough sketch feel. Got a client looking for a new label for the line of rums? This is the font for you.
Tattoo Sailor font is free for personal use only. Commercial use requires a donation.
22. Tattoo Girl
Don't let the splash page fool you - Tattoo Girl is a highly usable old school tattoo font with a nautical flair. The original outline has been built from modular monolines, and then filled to create six different formats, including open (outline), filled, half-filled bottom, half-filled top, filled shadow, and filled with a heart pattern. Ships with small caps in the lower case, numbers, and common punctuation. Be prepared to pay $36 for each font in the Tattoo Girl family.
23. Hatchet Font
Hatchet is a hand-drawn font inspired by classic tattoos and vintage woodcuts. The thin monoline font is incredibly consistent across all letters, but will need some stroke to show up on your apparel. The letter set is limited to uppercase letters and a small selection of punctuation.
24. Sailor Marie
Sailor Marie describes itself as the 'best sailor tattoo font ever'. It's hard to disagree - Sailor Marie comes in filled, monoline, monoline bold, half-filled, gradient fill versions and more! Very consistent across all letters and styles, with expressive flourishes - it's surprising Sailor Marie hasn't caught on among designers. It might be the fact that each of the 10 Sailor Marie styles is sold separately, starting at $23.
Download Sailor Marie tattoo font
25. Tattoo Lettering
Tattoo Lettering is a classic old school tattoo font. Although incredibly consistent across letters, it still retains its hand-drawn feel. The font comes in two formats, either open lettering, or filled. The font comes with a less ornate version of each letter in the lower case, and a full set of numbers. A small selection of punctuation and special characters round out the letter set.
Tattoo Lettering is free for personal use only.
26. Cute Tattoo
Cute Tattoo really pushes its hand-drawn lineage - no one would ever confuse this for a computer generated letter set! Rough edged, with more spurs and serifs than you can shake a stick at. Perfect for laying out your sketches, and it even comes with numbers and punctuation!
Cute Tattoo is 100% free, although donations are welcomed.
27. Zeebonk
Zeebonk is Dutch slang for a well-worn sailor, and the Zeebonk tattoo typeface definitely has a nautical feel. Zeebonk comes with extensive language support, alternates for the upper case (and some lower case letters as well) and more.
28. Navigator
Navigator just barely made the cutoff. Not specifically designed as an old school tattoo font, Navigator still brings the heat on any old school tattoo flash sheet or apparel branding, but features a few versions that are obviously not intended to be used for old school tattoo projects at all. The font also features additional flourishes on the uppercase letter set. Each version starts at $15.
29. Santiago BTN
Santiago BTN is a monolline slab serif font that skirts the line of what will work for old school tattoo fonts. It was originally developed as a Wanted Poster font, but definitely fits into traditional flash paintings and apparel projects.
30. Sailor's Tattoo Special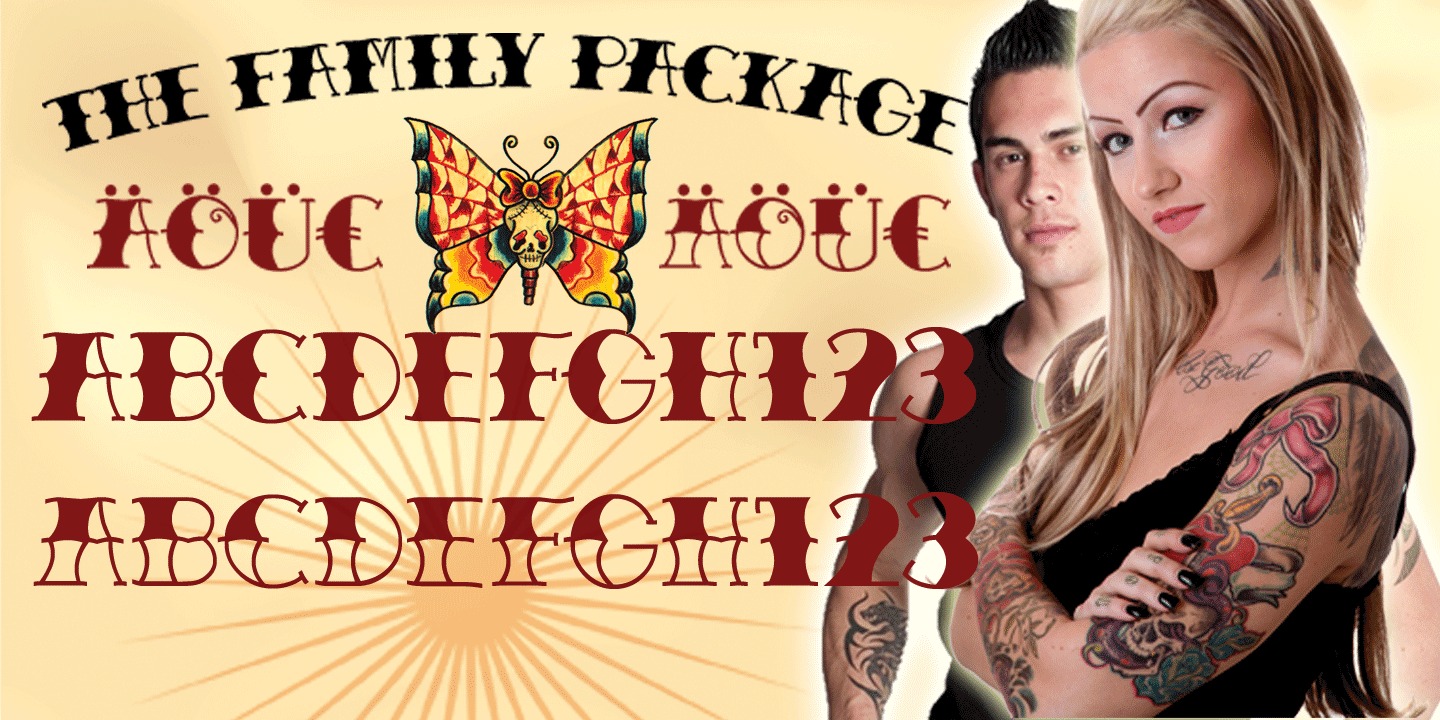 Sailor's Tattoo Special is a well-designed old school tattoo font that makes it pretty clear that this is a computer generated font. It's a modernist re-interpretation of an old school tattoo style, such as having square terminations on all the slab serifs. 2007 was a much different time indeed.
Download Sailor's Tattoo Special